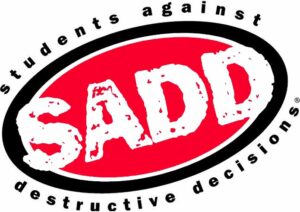 Do you want to leave a legacy at ND while helping your peers? Be a part of ND's S.A.D.D. Chapter! Because in these tough times, we could all use some support!!
Students Against Destructive Decisions (SADD) was founded on the simple philosophy that young people, empowered to help each other, are the most effective force in prevention. For more than a quarter-century, SADD has been recognized as a national leader in alcohol and drug education and prevention.
In every community, the world of teenagers becomes more and more complex. Substance abuse, violence, suicide, negative influences on body image, and glorification of lowered value standards are threats to teens' well-being.
With its expansion of focus to include destructive decisions outside of solely drinking and driving, SADD has become the premier youth-based education and prevention organization in America and maintains the ability to play a leading role in effective, evidence-based prevention programming.
For more information, click here:  https://classroom.google.com/c/MjA10TM3NDM4OTA3?cjc=e754jqu